Luxury Masjid Carpets
With over 25 years+ experience Masjid Carpets are the only Muslim owned company in the UK that manufactures tufted handmade prayer carpets. Our jobs are in compliance with Sharia Law..
Masjid Carpets Guarantee
All carpets comply with Sharia law
Only Highest quality yarns are used
Extra Stitches are tufted to ensure durability
Fitting is overlooked by professionals
Highest Quality Underlay is used (Cloud 9 Cumulous)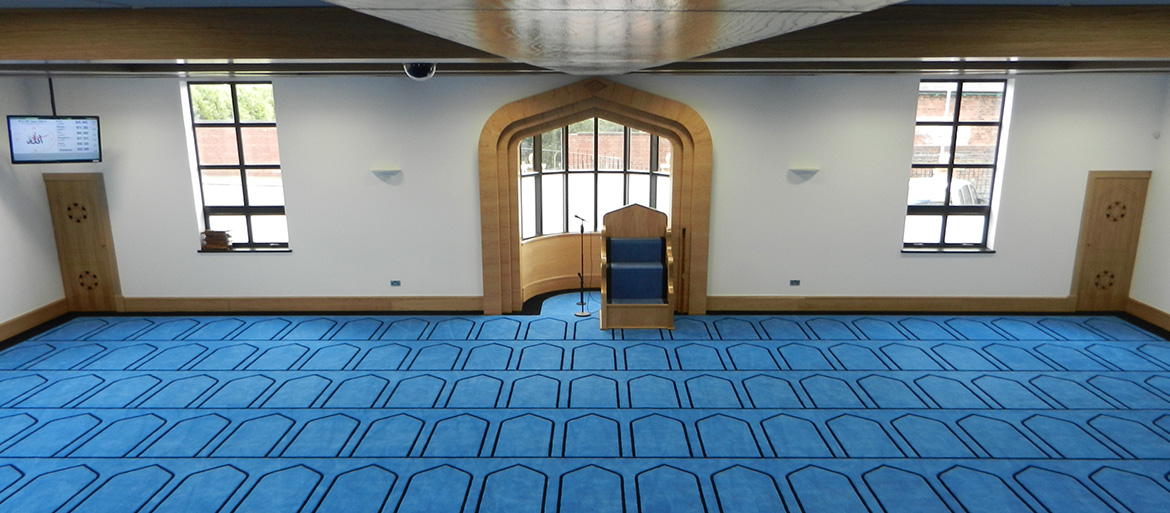 Our Mission
To manufacture and supply masjids in UK and Europe with High quality tufted carpets.
We have huge range of exclusive designs and can manufacture in any colour to compliment the surroundings of your masjid.
What we do

Bespoke Solution
Masjid Carpets pride itselves in offering a bespoke and exclusive carpet masterpieces.

Hand Tufted Carpets
Incorporating Hand carving and special shearing techniques each carpet is tailored to individual clients request.

Consultancy
From initial contact to day of delivery, we help you at each step of the way helping you create your own signature item.

World of Choices
We can manufacture masjid carpets from your own designs from curtains or ceiling rose or any other fitted furniture.

Perfection
Masjid Carpets promise to match to your exact specification that will compliment your prayer room and surrounding area..

Wow, your Prayer Room
We have moved with the times and has innovative methods of manufacturing carpets to exact dimensions.
Contact information
We welcome enquiries from Designers, Architects, Mosques, Individuals and more. What ever your requirements, we can certainly help.






© Beautifully Handcrafted in Silicon Batley by Faab